Okay Bears: NFT Project Turned Advertising Powerhouse
WAGBO!
We're All Going to Be Okay 👌
That's the mantra of the Solana-based NFT project, Okay Bears, which emerged during the bear market in April 2022.
Starting as a typical Solana-based PFP project, Okay Bears has evolved rapidly.
By building a strong community, becoming a leading PFP player, and collaborating with the UNHCR (United Nations) and other entities, Okay Bears has managed to leverage NFTs to create a culture shift in charitable fundraising, positively impacting its community and the world.
Okay Bears unveiled their new business strategy at NFT.NYC, incorporating more charitable projects, branding, merchandise, and web3-based advertising to elevate their presence on a global scale.
Today, we'll explore Okay Bears' journey, vision, and valuable insights brands can gain from their web3 playbook. Let's dive in! 🚀
Beyond the PFP: Okay Bears' Mission for Positive Change
Building a sustainable, charitable business is tough, but NFTs paved a new path for the Okay Bears team.
They knew that high NFT floor prices were only temporary and certainly not a guarantee, and focused on building a passionate community to support their shared vision.
Here's what they accomplished in just one year:
1️⃣ With Chicago Bulls' Lonzo Ball, they constructed a co-branded basketball court, inspiring and empowering local high schoolers.
2️⃣ In partnership with Movember, they raised funds and awareness for men's health, creating unique branding and engaging Bear holders.
3️⃣ Collaborating with UNHCR (United Nations Refugee Agency), they raised $26k and provided immediate relief to displaced families in Syria and Türkiye after devastating earthquakes.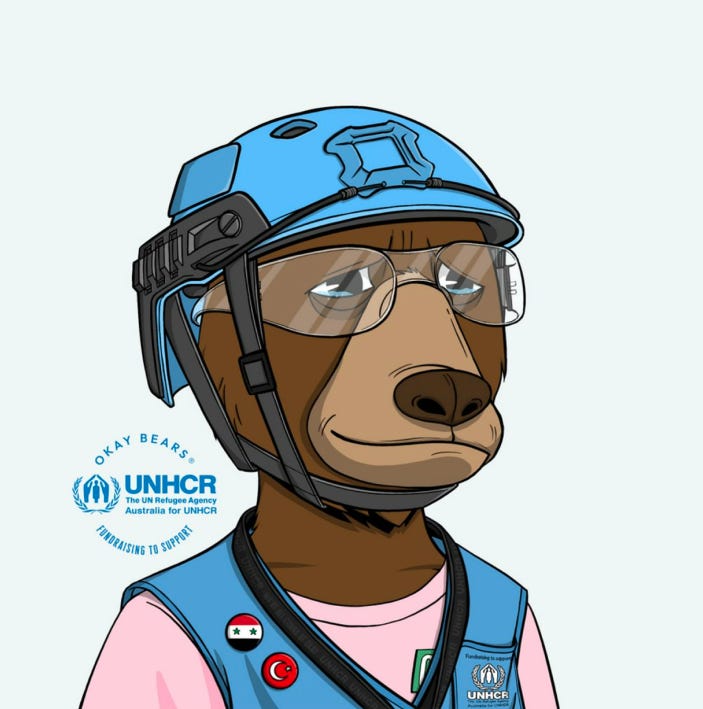 4️⃣ Teaming up with (RED) to fight AIDS and global health injustices. Collaborating on limited-edition merchandise, including wristbands, hoodies, and t-shirts, echoing partnerships like (RED) x Apple. Much like the proceeds of every red iPhone going to (RED)'s charity, Okay Bears' (RED) edition merch proceeds will go to fighting these causes too.
🤝 These collaborations actively engaged the community, creating positive impact and strengthening the brand's recognition.
Through events, merchandise, limited edition mints, and unique perks, Okay Bears has laid the foundation for their project's future…
Okay Bears and Their Multi-Pronged Web3 Playbook
During their keynote speech at NFT.NYC, Okay Bears dropped a multi-faceted branding and business strategy that is guaranteed to set them apart from most other projects we've seen in the space.
How?
By transforming their community into an advertising and IP powerhouse, Okay Bears' three-pronged approach benefits Bear holders (and non-holders!) in various ways:
Badges and Streaks
Okay+ Ad Network
IP licensing and merchandising
1. Badges and Streaks
NFT ownership can feel limited in terms of engagement with one's collectibles. That's where Okay Bears steps in, reinventing the holder-Bear relationship.
By tracking the history of each NFT (loans, sales, transfers, etc.), they add an extra layer of collectibility to the static Bear NFT. This makes the NFT experience more engaging and challenges holders' loyalty and community involvement.
Collecting more Bears, holding them longer, or having unique features (like mustaches available only during Movember) can grant access to different collectible badges, which you can then use to flex your collector behavior, become eligible for different rewards and perks, and, eventually, receive these badges as physical items!
Streaks reward users for maintaining habits like using a Bear as a Twitter PFP, keeping a Bear off the marketplaces, or tweeting a "GM" daily with a generative visual based on the Bears in your wallet.
To start your streaks, simply go to okay.xyz dashboard, connect your Solana wallet and Twitter account, and start pushing those GMs to get rewards!
But Streaks aren't limited to Bear holders; anyone can participate, engage, and potentially win collectibles, merch, or other cool perks! 🤩
2. Okay+, the Okay Ad Network
With a highly engaged community and millions of Twitter impressions, Okay Bears has realized the potential it holds and has launched the Okay Ad Network.
This ingenious move brings income opportunities to Bear holders and non-holders alike, offering businesses of all sizes a chance to tap into the expansive Okay Bears social network for organic, web3-native advertising on Twitter.
For example, Beats, the headphone brand, partners with you to showcase their latest headphones by adding them to your Bear's PFP. The more impressions and engagement your profile gets on Twitter, the more you'll be paid.
Say goodbye to standalone ads and hello to PFP-centric advertising! Holders can earn by renting out their valuable Twitter real estate – their profile picture.
But wait, there's more!
Both Bear holders and non-holders with a Solana wallet can opt in for sponsored posts on Twitter, earning rewards for sharing content from brands that Okay Bears has partnered with.
Of course, it's ultimately your choice what content you want to share.
These innovative methods enable global brands to leverage the Okay Bears network for advertising, directly rewarding community members who participate. Genius!
3. IP and Merchandising
Merchandise is the cherry on top for Okay Bears.
Okay Bears has partnered with a global retailer (TBA) to put a select few of the Bears on their clothing (think t-shirts, hoodies, jackets, etc) and sell it in thousands of retail locations across the world.
The IP is licensed to the retailer, and Okay Bears announced a 50/50 profit split with the lucky Bear NFT holders. Yes, 50%!
Of course, this is just the beginning for Okay Bears in IP licensing and merchandising.
They've also teamed up with another NBA star (Anthony Edwards) for collaborative projects, partnered with Mighty Jaxx (a collectible toy producer) to manufacture Okay Bears collectible toys, and are likely to partner with more companies to spread the message of WAGBO far and wide.
Setting an Example
Okay Bears' journey offers valuable insights for brands looking to thrive in the web3 era.
They've successfully built a passionate community, collaborated with high-profile partners, and created innovative approaches to engagement, advertising, and merchandising.
As they continue to grow and make a positive impact on the world, their playbook demonstrates the power of combining web3 technologies, strong community values, and creative thinking.
It's time for other brands to take note and learn from the Okay Bears' successful example in order to create meaningful and sustainable growth in this ever-evolving digital landscape.
PS: If you enjoyed today's edition, you'll really like the Web3 Academy Newsletter & Podcast where we're carving a path for DOers to confidently build and invest in web3.
Want to maximise the returns on your crypto investments? Join The Free Wealth Mastery Report to Receive Weekly Insights on Altcoins, NFTs, Airdrops and DeFi!
Want to maximise the returns on your crypto investments? Join The Free Wealth Mastery Report to Receive Weekly Insights on Altcoins, NFTs, Airdrops and DeFi!
TOP RECOMMENDED CRYPTO SERVICES
 BINANCE: BEST EXCHANGE FOR BUYING CRYPTO IN THE WORLD

 10% OFF FEES & $600 BONUS
 BYBIT: #1 EXCHANGE FOR TRADING

 0% SPOT FEES AND $4,450 IN BONUSES
 BEST CRYPTO WALLET TO KEEP YOUR ASSETS SAFE

  BUY LEDGER WALLET HERE